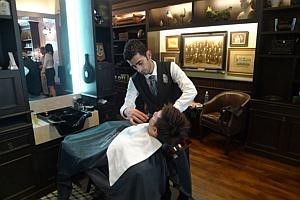 Truefitt & Hill is the oldest barbershop in the world, as certified by Guinness Book of World Records in April 2000. Truefitt was established in 1805 by William Francis Truefitt. Truefitt styled himself as hairdresser to the British Royal Court and the firm received their first Royal Warrant from King George III. In 1911, Edwin Hill set up a barber shop on Old Bond Street, also near the royal neighbourhoods in London and it was to this address H.P. Truefitt (William's nephew) moved in 1935 to create Truefitt & Hill. Other Truefitt regional outlets were merged into the present company in 1941. The present location of Truefitt & Hill at 71 St. James's Street.
Even today, Truefitts occupies the position of one of the leading men's barber shops in the World. Glancing at the appointments book, it reads like pages from Debrett's and Who's Who. Clients include Members of the male line of the Royal Family, Members of visiting Royal Households, Captains of Industry, Members of both Houses of Parliament, the City, the Theatre, Ambassadors and the Diplomatic Service, visiting Dignitaries, the Professions, the Arts, and all other strata of British Society.
Throughout their whole history, employees and family members of Truefitt & Hill had made their best efforts to create a perfect and well-known line of exclusive shampoos, perfumes or colognes. All of their products (including soaps, shower gels, balsams or eau de toilettes) contain natural scents.
Why do we use their products at Gentleman's World?
Because it is our sincere intention for you to fully enjoy the exclusive feeling that only a professional and traditional barbershop can offer to a proper gentleman, using top-notch scents and quality line products. Only by trying something new. something different you'll understand what it means to be a real man – a real gentleman.
Source: http://www.truefittandhill.co.uk/history, Wikipedia